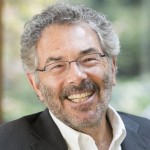 RABBI JEFFREY A. SUMMIT
JEWISH CHAPLAIN &
NEUBAUER EXECUTIVE DIRECTOR, TUFTS HILLEL
Rabbi Jeffrey A. Summit serves as Tufts' Jewish Chaplain, Neubauer Executive Director of Tufts Hillel, and Research Professor in the Department of Music and the Judaic Studies Program. He is the author of The Lord's Song in a Strange Land: Music and Identity in Contemporary Jewish Worship (Oxford University Press, 2000) and together with photojournalist Richard Sobol, is co-author of Abayudaya: The Jews of Uganda (Abbeville Press, 2002). His CD "Abayudaya: Music from the Jewish People of Uganda" was nominated for a GRAMMY award.
He recently finished a new CD for Smithsonian Folkways Recordings on the music of the Jewish, Christian, and Muslim coffee farmers of the Delicious Peace Fair Trade Coffee Cooperative in Uganda. He is passionate about guitars, hiking, and the role of music in spiritual experience.
His special interests include music and spiritual experience, interfaith dialogue, and the changing nature of the family. For fun, he runs, hikes, and plays blues guitar.