The University Chaplaincy offers several resources at the Cummings School of Veterinary Medicine, Tufts' campus in Grafton, MA. As a liaison for our department, Tufts' Humanist in Residence holds regular office hours on the Grafton campus. The University Chaplaincy is also present to assist at Pet Loss Hotline debriefings, support student student spiritual and ethical communities and activities on campus, and advise students, faculty, and staff about religious and philosophical life issues and animal care.
Religious Life Around Cummings
The Tufts Christian Veterinary Fellowship is a SAVMA-affiliated chapter of the national CVF organization which offers prayer meetings, organizes travel to conferences, hosts social programs, and coordinates the prayer and reflection boxes around campus. There is no membership fee and they welcome any and all new members, no matter your religious background. To learn more or join the e-list, contact Molly Lawry V18 at molly.lawry@tufts.edu.
Outside Tufts, there are hundreds of houses of worship, religious organizations, and moral communities across Grafton, Shrewsbury, Millbury, Westborough, and Worcester. The list to the left, compiled by Molly Lawry and Walker Bristol, lists a few of those communities that Tufts students have connected with in the past or welcome Tufts students to attend, as well as program times and local contacts when available.
Office Hours
Office hours with the Humanist in Residence are by appointment, and on the second Tuesday of each month from 1 pm to 4 pm in the Cummings Support Center. To make an appointment with the Humanist in Residence, e-mail walker.bristol@tufts.edu.
Pet Loss Hot Line
If you have experienced the death of a pet and would like a caring listening presence, you are welcome to call the Pet Loss Hotline on weekdays between 6 pm and 9 pm or to leave a message 24 hours a day. The number is 508-839-7966. For more information, visit the Pet Loss Hotline website.
Educational Resources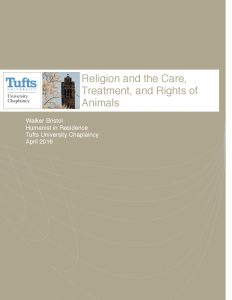 To promote literacy about perspectives on animal care in different religious and philosophical traditions, we have developed and we update a resource entitled Religion and the Care, Treatment, and Rights of Animals. This resource is designed to support veterinary students' continuing education on diversity and their roles as practitioners, but we also hope it can provide insights for anyone living in America's increasingly diverse religious landscape and interested in better understanding their neighbors' perspectives related to human-animal interaction. You can find the most recent version of the resource hosted on the Tufts Humanist Chaplaincy website by clicking here or the image on the right.