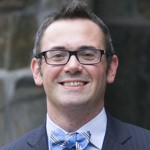 THE REVEREND GREG MCGONIGLE
UNIVERSITY CHAPLAIN
The Reverend Gregory W. McGonigle was appointed University Chaplain of Tufts University on July 1, 2013. In this capacity, his duties are to oversee and support all religious, spiritual, and philosophical life at the university, to educate about religious and ethical issues in society and the world, to coordinate multifaith initiatives, and to build relationships with University Chaplaincy partners on campus and beyond. Working collaboratively with the other four chaplains—Catholic, Jewish, Muslim, and Protestant—he is charged with serving the spiritual and pastoral needs of the whole university.
Before coming to Tufts, Reverend McGonigle served for five years as Director of the Office of Religious and Spiritual Life at Oberlin College and Conservatory of Music near Cleveland, Ohio. In that role he built the spiritual and ethical life of the college into a dynamic, collaborative, and integrated multifaith program. He led the college's involvement in the White House Interfaith Engagement and Community Service Campus Challenge, established interfaith councils for faculty, staff, and students, developed a successful interfaith service program, cosponsored multicultural initiatives, and opened a new Multifaith Center. He also taught courses on interfaith leadership and religions, genders and sexualities, and sponsored international learning experiences—including an alumni travel seminar to India in the fall of 2012.
Before serving Oberlin, Reverend McGonigle was a campus minister for four years at the University of California at Davis. He has also served as a minister at the Unitarian Universalist Church of Davis, the Dana Farber Cancer Institute/Brigham and Women's Hospital, and the Boston Living Center—a community resource center for people with HIV/AIDS.
Reverend McGonigle is an ordained minister in the Unitarian Universalist Association—a religious tradition rooted in Judaism and Christianity that honors spiritual insights from many sources and promotes progressive principles of personal ethics and social justice.
He received his Master of Divinity degree from Harvard Divinity School, focused on academic chaplaincy, interfaith relations, and American religious history. While at Harvard, he was a researcher for Professor Diana Eck's Pluralism Project. He earned his Bachelor of Arts degree magna cum laude from Brown University, with a concentration in Religious Studies focused on South Asian religions. For fieldwork, he studied abroad in India with the University of Pennsylvania.
He has received special training to be an International Service Trip Team Leader with the United Methodist Church; a Field Education Supervisor/Mentor for Seminarians with Pacific School of Religion; a Facilitator of the Our Whole Lives Lifespan Sexuality Education Program; and an All-Options Pregnancy Counselor with the Religious Coalition for Reproductive Choice. He led a Young Adult International Service Trip to Zimbabwe, Zambia, and Botswana in 2007, and participated in the Parliament of the World's Religions in Melbourne, Australia in 2009. In 2011, he undertook continuing education in Egypt, Jordan, and Israel/Palestine, and in June of 2013 he participated in a Niagara Foundation-sponsored interfaith academic delegation to Turkey.
Reverend McGonigle is President of the National Association of College and University Chaplains and a member of the Association of College and University Religious Affairs and the American Academy of Religion. He is also an Affiliated Minister in The Memorial Church at Harvard University and a member of the Board of Religious, Spiritual, and Ethical Life at Harvard University. He lives in Medford and enjoys coffee, good food, exercise, theatre, movies, reading, and exploring New England and beyond.