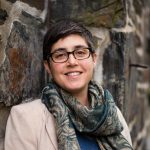 LYNN COOPER
CATHOLIC CHAPLAIN
Lynn Cooper,  A02 has served as Tufts' Catholic Chaplain since 2008.
As an undergraduate at Tufts, Lynn lived as a devoted Jumbo, splitting her time between her studies–Religion and English–and the Tufts Women's Soccer team. Her experience at Tufts changed the way she thought about what it means to be church, and this was and still is very exciting. After graduation, Lynn retreated to Maine to think about all of this, returning to Boston a year later to attend Harvard Divinity School. In the Master of Divinity program, Lynn pursued her academic and ministerial interests, ultimately focusing her study on religion, gender, and culture. She wrote her thesis on the rhetorical use of Catholic language and  symbol by 19th century American anarchist women.
Lynn has served in many settings—including parish youth ministry, youth group development, higher education campus ministry, and in the non-profit sector—but she has felt herself repeatedly called to university chaplaincy. During the 2006-07 academic year, Lynn returned to Tufts as a Chaplaincy Intern, working at the intersection of religion, faith, and activism, and in 2008 she began her ministry as the Catholic Chaplain at Tufts University.
Lynn is the youngest of five, an aunt to ten, and the proud daughter of two really cool parents. In addition to her family, friends, and city, Lynn loves local industry, public radio, and commuting by bike.
Lynn says, "There are as many ways of being religious as there are human beings in the world. Our job here is to work with students as they encounter God in new places and under new circumstances. We are committed to open minds and open hearts–as college is a great time to discover those personal entry points into spiritual life. It is my hope to empower students as agents as they work hard to make meaning in their lives. And it is also my hope that in broadening the diversity of conversation, we may get at the heart of the particular. And this, I think, is central to it all – central to inspiriting the Catholic community, central to encouraging not just religious tolerance but religious literacy, and central to cultivating a healthy multifaith landscape at Tufts."