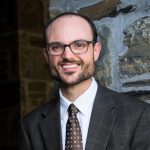 THE REVEREND DANIEL BELL
PROTESTANT CHAPLAIN
The Reverend Daniel Bell was appointed Protestant Chaplain at Tufts in August of 2016. As a member of the University Chaplaincy team, Dan is dedicated to enriching the spiritual and ethical lives of all those affiliated with Tufts, with a focus on the Protestant community. He works closely with the Tufts Protestant Students Association to develop the ecumenical Protestant community on campus. Dan works with students to coordinate worship services, spiritual formation activities, service and social justice projects, and ecumenical and interfaith initiatives. He also provides pastoral care to students, faculty, and staff as needed.
Dan earned a Master of Arts in Religion degree summa cum laude, with a concentration in the History of Christianity, from Yale Divinity School in 2010. He graduated from Yale again in 2013 with a Master of Divinity degree, and received a Diploma in Anglican Studies from Berkeley Divinity School, the Episcopal seminary at Yale.
He received his Bachelor of Arts degree summa cum laude from Gordon College in 2008, where he studied history, biblical studies, and theology. As an undergraduate, Dan was active in campus ministries and student government. He also studied abroad in Italy and Greece, and spent his junior year in England at the University of Oxford.  
Dan moved to Boston after college to serve in Life Together, an Episcopal Service Corps program. During his two years as a fellow, Dan was the Diocesan Intern at St. Stephen's Memorial Episcopal Church in Lynn, Massachusetts. There he supported youth and young adult ministries, served and preached during worship, provided pastoral care, assisted with Christian education, and organized adults and young people around social justice issues. Dan's proudest accomplishment at St. Stephen's was establishing BE YOU, a youth group for LGBTQ+ high school students and peer allies.
Dan has led faith formation programs at two Episcopal camps for children and youth, the Barbara C. Harris Camp and Conference Center in New Hampshire and Camp DeWolfe in New York. Most recently, he participated in a yearlong residency as a chaplain at the Massachusetts General Hospital, and has completed four units of Clinical Pastoral Education. He has also served as a parish intern at St. Paul's Episcopal Church in Malden, Massachusetts, and he was ordained to the transitional diaconate in June 2017.
Dan has family in New York, Florida, and Japan, where his brother, sister-in-law, and nephew live. A native of Long Island, New York, Dan lives in Somerville and considers himself a "wannabe" New Englander. He enjoys walks and bike rides along the Charles River, on the Minuteman Trail, and wherever he can stay clear of Boston traffic. He also enjoys being with friends, reading, traveling, and watching Netflix in some doses. Last but not least, Dan is a lifelong Trekkie.