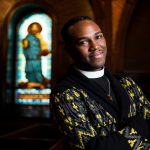 THE REVEREND LAMBERT RAHMING 
AFRICANA COMMUNITY ASSOCIATE
The Reverend Lambert N. Rahming, Jr. was appointed Africana Community Associate in the Tufts University Chaplaincy in February 2017. In this capacity, Lambert provides spiritual support in the Tufts community, focused on the Africana community. This work primarily involves offering a weekly scripture study with the Capen Bible Study group, and potentially other innovative and intriguing ways to experience the Divine at the intersections of faith and Blackness. Lambert's work on campus is through a partnership with Sanctuary United Church of Christ in Medford, where he serves as Community Minister.
Lambert earned a Master of Divinity degree, with distinction, from Boston University School of Theology. Upon graduation, he received numerous awards, including the David H.C. Read Preacher/Scholar Award, the Massachusetts Bible Society Award, and the Garner Prize for Preaching and Excellence in Homiletics. During his time at the School, he was also granted many scholarships and held leadership roles such as Worship Intern, President of the Association of Black Seminarians, and Community Life Coordinator.
Before seminary, Lambert was a music educator. His background in music started at an early age, but was solidified during his undergraduate studies at Morehouse College. There, he received talent grants to study music composition and he scored orchestral music for film and video games. In his senior year, Lambert was the President of the Morehouse College Glee Club as it celebrated its centennial anniversary.
Ordained in the African Methodist Episcopal Church, Lambert is involved at Charles Street AME Church in Roxbury. Under the leadership of his pastor and friend, the Reverend Dr. Gregory G. Groover, Sr., Lambert functions as the church's Associate Minister for Liturgical Life. His main duties are to fashion and provide creative liturgy for worship services, particularly for Christian holidays.
Lambert serves as Community Minister at Sanctuary United Church of Christ — an electric and eclectic Christian community in West Medford. In this role, Lambert is responsible for extending Sanctuary's vivid message of inclusion and radical hospitality to those beyond the four walls of its storefront setting. This work involves cultivating faith-focused programs and projects that increase neighborhood involvement.
Lambert comes from a very spread out family: his parents live in his homeland of the Bahamas, his older sister lives in Canada, and his younger brother lives in China. Lambert is a faithful resident of Roxbury, having lived there ever since arriving in Boston in 2011. He continues to enjoy music, and can often be caught at the piano working on a new idea, or singing a hymn while walking around Medford, or really anywhere. Overall, Lambert loves God, loves people, and loves to prove it.