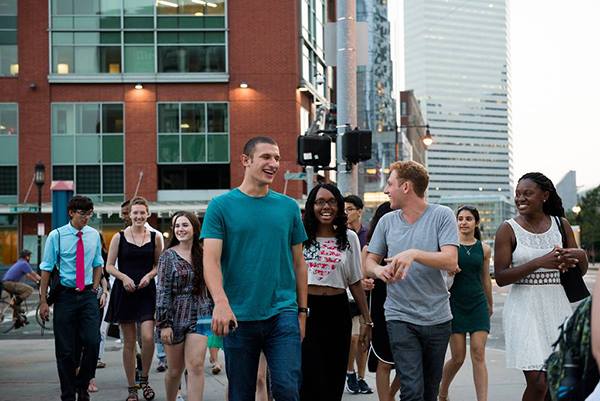 "I have rarely felt so at ease as quickly as I did as a CAFE planner and peer leader last year. CAFE attracts an exceptionally kind, welcoming and interesting group of people, and they broadened my world view and taught me so much every day of my experience. I am now a better person with a stronger support system because of CAFE, and I highly encourage anyone to give it a shot."
– Lisa Meehan, 2015 CAFE Pre-Orientation Peer Leader, A17
2017 CAFE Pre-Orientation 
The mission of the CAFE Pre-Orientation Program is to welcome, gather, equip, and network the religious, spiritual, ethical, and interfaith leaders of the incoming class–leaders who are committed both to mutual inspiration and to making positive change in the world. The program involves:
exploration of self and others;
identifying strengths in religious and philosophical literacy and room to grow;
consciousness-raising about issues of social justice on campus and in the wider community;
and training on how to make a positive change through community organizing and activism.
Student Coordinator and Support Staffer Positions
Application Deadline: Monday, January 29, 2018, 5 pm
See below for full position descriptions:
To apply, please complete the following by the application deadline:
Complete the online application form here.
Email an updated resume to Zachary Cole.
Peer Leader Positions
See what it's like to be a CAFE Pre-O Peer Leader – CAFE Peer Leader Video
See below for full position description:
Check back in January 2018 for application information. Application deadline is usually in late February/early March.
For questions, please email Zachary Cole.