The Senior Baccalaureate Speaker is the recipient of the Wendell Phillips Award, which was established in 1896 to honor Boston's great orator and advocate for abolition and women's and Native People's rights, Wendell Phillips. The award is given annually to a senior who demonstrates both marked ability as a speaker and a high sense of public responsibility. Selected by the Committee on Student Life, the winner is the one graduating senior invited to offer a speech as part of Commencement, and the speech takes place during the Baccalaureate Service. It is intended to deliver a social justice message for our time. The Wendell Phillips Speaker for the Class of 2018 will be selected in March 2018.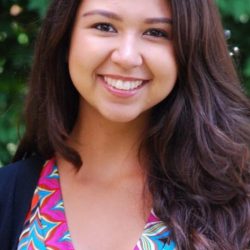 The Wendell Phillips Speaker for the Class of 2018 is Anna Del Castillo
Anna Del Castillo A18 is a Peruvian-Bolivian-American student from the warm state of Mississippi. She enjoys southern food, live music, and spontaneous adventures with friends. Anna is an International Relations major with a minor in Colonialism studies. She is a member of the Sigma Iota Rho International Relations Honor Society, an Institute for Global Leadership Synaptic Scholar, and a BLAST Scholar. During her time at Tufts, she served as a class senator for four years and during her senior year served as the Tufts Community Union Vice President. She organized for the Tufts Indigenous Peoples Day movement and served as a Career Fellow and Interfaith Student Council member. Anna led the Tufts Andrew Goodman Vote Everywhere team and represented Tufts as a Boston Interfaith Leadership Initiative Fellow. Anna will attend Harvard Divinity School in the Fall to pursue a Masters in Theological Studies as a Dean's Fellow where she will continue to cultivate herself and explore the intersection of spirituality and social justice.   
For more information on the Baccalaureate 2018 Service visit here.