Monday, April 3, 2017, 5:45 pm, Interfaith Center (58 Winthrop St.)
The Tufts University Chaplaincy invites you to join us for this year's Russell Lecture on Spiritual Life, the oldest lectureship at Tufts University, established in 1867. This year's lecturer will be The Reverend Osagyefo Sekou, a prominent spiritual leader and social activist in the Black Lives Matter movement.
Sponsored by the University Chaplaincy and co-sponsored by the Africana Center, the AS&E Diversity Fund, the Center for the Study of Race and Democracy, the Consortium of Studies in Race, Colonialism, and Diaspora, the Latino Center, the Office of the Chief Diversity Officer, the Office for Student Success and Advising, the Religion Department, Student Affairs Pluralism Initiatives, and the Tisch College for Civic Life.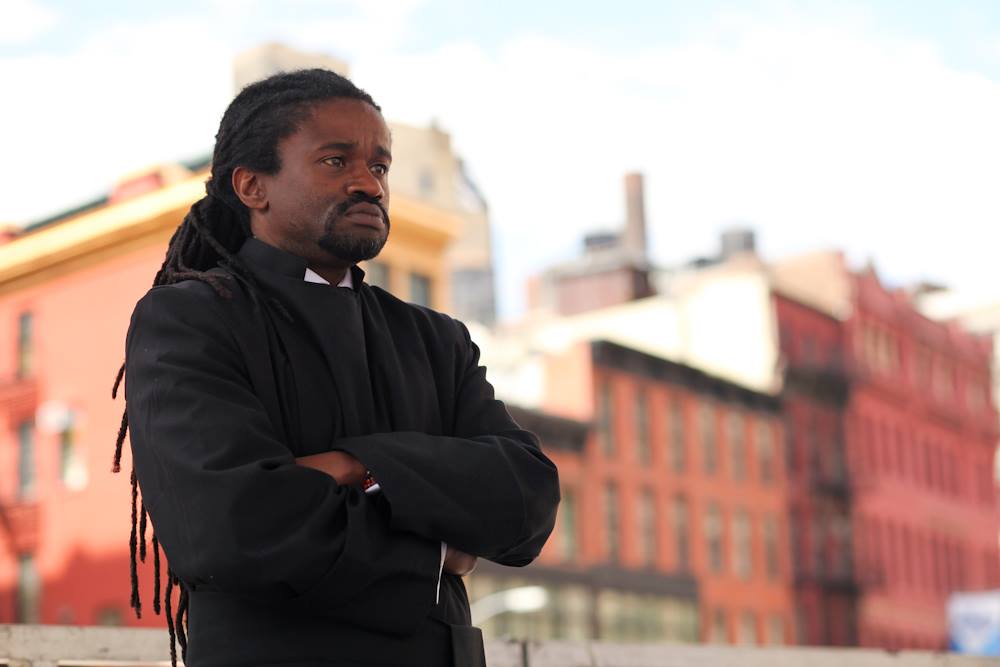 A native of St. Louis, Missouri, after Michael Brown's death, Reverend Sekou returned to Ferguson to help organize against police violence, predatory court systems, and economic and social injustice there. As an interfaith leader, he has been involved in numerous movements for peace and social change, and he has trained over five thousand activists in nonviolent direct action. He is featured in the film Ferguson: A Report from Occupied Territory.
We hope that you will join Tufts students, faculty, and staff for a dinner in honor of Reverend Sekou and for his engaging lecture and discussion.
Rev. Osagyefo Uhuru Sekou
Noted activist, theologian, author, documentary filmmaker, and musician, Reverend Osagyefo Sekou was born in St. Louis, Missouri and raised in the rural Arkansas Delta. In May 2017, Rev. Sekou will release "In Times Like These".  Recorded at the storied Zebra Ranch Studio—a barn in Coldwater, MS, the album features the six-time Grammy nominated North Mississippi Allstars. Rev. Sekou's newest collaboration is a unique combination of North Mississippi Hill Country Music, Arkansas Delta Blues, Memphis Soul and Pentecostal steel guitar.
In January 2016, Rev. Sekou and the Holy Ghost released the critically acclaimed album, "The Revolution Has Come".  AFROPUNK celebrates the album's "deep bone-marrow-level conviction". The single, "We Comin'"–was named the new anthem for the modern Civil Rights movement by the St. Louis Post-Dispatch.
Rev. Sekou is the author of two collections of essays: urbansouls, a meditation on poor black youth in St. Louis, hip hop, and religion; and Gods, Gays, and Guns: Essays on Religion and the Future of Democracy. He has written widely on the 2011 killing of Mark Duggan by British police and the subsequent London riots, and is the author of the forthcoming Riot Music: British Hip Hop, Race, and the Politics of Meaning (Hamilton Books). Rev. Sekou is currently working on two manuscripts: "This is Not Your Daddy's Civil Rights Movement:  Black Lives Matter and the legacy of Dr. Martin Luther King, Jr." and  "A Liberation Theology of Ferguson". His documentary short film, Exiles in the Promised Land is based on his visit to a refugee camp and lecture in Beirut, Lebanon.  It was selected for the Amnesty International Human Rights Film Festival (2009).
He has studied continental philosophy at the New School, systematic theology at Union Theological Seminary, and religion at Harvard University. He has lectured widely, including at Princeton University, Harvard Divinity School, the University of Virginia, University of Paris IV – La Sorbonne, and Vanderbilt University, and is a former Professor of Preaching in the Graduate Theological Urban Studies Program at the Seminary Consortium of Urban Pastoral Education, Chicago, IL.  Rev. Sekou was selected by Ebony Magazine's Power 100, NAACP History Makers (2015), and on the Yerba Buena Center for the Arts 100 –list of creative thinkers. He received the Keeper of the Flame Award from the National Voting Rights Institute and Museum in Selma, AL, and was appointed a Associate Fellow at the Institute of Policy Studies.
Rev. Sekou was a Visiting Scholar at Stanford University's Martin Luther King Education and Research Institute at the time of Michael Brown Jr.'s killing, and traveled to Ferguson in mid-August 2014 on behalf of the Fellowship of Reconciliation (the country's oldest interfaith peace organization) to organize alongside local and national groups.  With the Deep Abiding Love Project, he has helped trained over five thousands activists in militant nonviolent civil disobedience through the United States.
Reverend Sekou served as Pastor for Formation and Justice at First Baptist Church in Jamaica Plain, Boston. He was formerly Senior Pastor of Lemuel Haynes Congregational Church in Queens, served as Special Assistant on Social Justice to the Bishop for the Church of God in Christ, Senior Community Minister at New York's Judson Memorial Church, and Social Justice Minister at Middle Collegiate Church, New York. He has been Fellow-in-Residence at the Brooklyn Society for Ethical Culture, and as Ella Baker Fellow at New York Theological Seminary's Micah Institute, he served as a strategist organizing clergy for economic justice in New York City.
Reverend Sekou also served on the National Political Hip Hop Convention Platform Committee and was Senior Adviser the 2004 Kucinich Presidential campaign. Following Hurricane Katrina, Reverend Sekou moved to New Orleans, founding the local Interfaith Worker Justice Center. In 2006, the Institute for Policy Studies appointed him as Associate Fellow in Religion and Justice.
He is a founding national coordinator for Clergy and Laity Concerned about Iraq (CALC-I), which represented over 300 faith-based institutions and organizations working to end the war in Iraq. In 2006, CALC-I led a civil disobedience at the White House at which more than 350 people were arrested, including sixty religious leaders.
Reverend Sekou was a delegate to the World People's Conference on Climate Change and the Rights of Mother Earth in Cochabamba, Bolivia in 2010. was a member of the inaugural Dorothy Cotton Institute Palestinian/Israeli Non-Violence Project's delegation of US Civil Rights leaders to the West Bank in 2012. Reverend Sekou served as Editor as Chief of Spare Change News, the nation's oldest continuous street newspaper, from 2012-2013.
Reverend Sekou is featured in Orlando de Guzman's 2015 documentary film Ferguson: A Report from Occupied Territory.. He was arrested multiple times during the Ferguson Uprising, including for 'Praying while Black' outside the Ferguson Police Department in September, alongside over 40 clergy, faith leaders and community members during the 500-strong Moral Monday protest during last year's Ferguson October convergence, and, more recently, on Moral Monday 2015, as part of more than 50 people and faced federal charges following a sit-in at the Department of Justice. In February 2016, Reverend Sekou stood trial for his first arrest in Ferguson and was found not guilty.
In May 2015, Reverend Sekou moved back to St. Louis to focus on organizing against police violence, predatory court systems, and economic and social injustice.