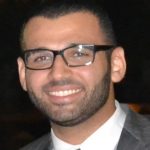 ABUBAKR FAKHRY ABOU-ELALA
MUSLIM ASSOCIATE
Abubakr Fakhry Abou-Elala was appointed Muslim Associate in the Tufts University Chaplaincy in November 2016, to support the work of Tufts' Muslim Chaplain Celene Ibrahim.
Abubakr also serves as the Youth Director at the Islamic Society of Boston Cultural Center (ISBCC), the largest mosque in New England, and he is the founder of the ARKanum youth leadership program that began in June 2016.
Abubakr is a Canadian citizen who was born in Saudi Arabia and grew up in Egypt. He has been living in the United States for several years. With a passion for youth work, he co-founded the Utopia Academy-Cairo and Utopia Boston, which are youth leadership and character-building organizations. Through those organizations, Abubakr has led several international youth educational trips around the world, to places such as Austria, Czech Republic, Nepal, Slovakia, South Africa, and Spain.
Abubakr is a former fellow of the Center for Inter-Religious and Communal Leadership Education (CIRCLE) and a current fellow at Boston Bridges. He studied Islamic Sciences with a number of teachers in Egypt, and memorized the Qur'an by age 14. He holds a master's in organizational leadership from Northeastern, and a bachelor's in electrical engineering. He has done engineering work in the UK, the United States, and China.